professional, affordable, easy-to-use
Calibry is a hand-held 3D scanner meant to capture objects from 30cm to 10m in length. The name invokes images of Colibri (aka "Hummingbird") which is known for its small size and incredible speed. It is also consonant with the word "calibrated" – accurate, precise.

Black surfaces

Built-in Touchscreen
Allows you to see what you scanned. No need for a computer screen.

Unlimited technical support

Glossy objects

Lightweight & Portable
Under 900 gr (1.5lbs). Take it with you anywhere you go.


Sharp edges

Fast Capture
35 frames per second. What will you do with all that extra time? Get up to 3M points per second!

Human hair

Scans what others can't
Sharp edges, black & glossy objects, and fur & hair are no longer a problem.

Complementary & Powerful software
Each device comes with unlimited licenses of our simple, yet powerful software.

Proprietary Camera
We developed our own camera for this device. This makes Calibry faster, cheaper and better.

3 tracking modes
Track by geometry, texture or markers. We made sure you'll never lose your way.

Calibration
Calibrate or not. Up to you. We've provided the board for you just in case the mood hits you.

Almost unlimited-sized scan
Scan the car door or scan the whole car. Both the device and the software can take it!
Affordable & easy scanning of small objects

Calibry Mini is a hand-held 3D scanner designed to digitize small objects (from 2 cm to 30 cm in length). Blue LED lights ensure high quality of captured data and build-in touchscreen makes scanning easier. The device is lightweight, dependable, and simple to learn.

Medical professionals
The Mini captures intricate parts of human anatomy quickly. In plastic and maxillofacial surgery, it is used to digitize ears, lips, and noses. Orthopedic and prosthetic specialists use the Mini to scan hands and feet to create custom braces and other corrective devices.

Schools and universities
The scanner comes with complementary, unlimited Calibry Nest software, making it a great solution for schools with tight budgets. Invest in one device; install the software on every computer in the classroom. Students can have hands-on experience with the Mini during class and then work with collected 3D data at their own pace during lab hours or at home.

Museums and archeologists
Want to create a 3D virtual museum? Travelling to an archeological site to dig up dinosaur bones? The Mini will digitize artifacts in full color and is easy to take with you on an airplane.
Drake is a portable, wireless 3D scanner that can capture almost any object, large or small.

It is the first hand-held 3D scanner that has interchangeable lenses which allow the user to scan any sized object: from a coin to a yacht.
The scanner is discontinued since July 2020.
Thor3D is a wireless, hand-held 3D scanner for large and medium objects (1-10m sized) such as humans, cars, yachts or statues.
The scanner is discontinued since July 2018.
To make the process of scanning humans even easier, we recommend purchasing the turntable. It helps to capture the data smoothly and simplifies the scanning process overall.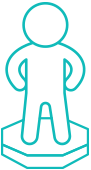 Place a person in the desired position on the table

Turn on the table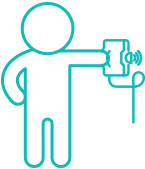 Start scanning