THOR3D PARTNERS WITH RHINOCEROS (MCNEEL) TO OFFER A NEW PRODUCT FOR RHINO-FANS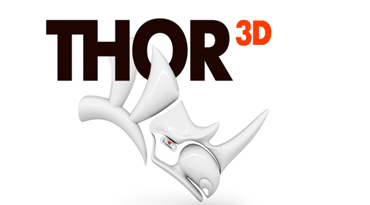 A manufacturer of 3D scanners (Thor3D) and Rhinoceros software developer (McNeel) have signed an agreement: Thor3D's distribution partners will be able to resell Rhino software along with several accompanying plug-ins in a bundle with Calibry 3D scanner.
Rhinos' extensive set of tools for free-form 3D modeling, rendering, animation, engineering and analysis is now supplemented with Calibry's scans, which can be used as base models by artists, designers and engineers. The bundle can be amplified by Flamingo nXt rendering engine, Penguin rendering software, Bongo (integrated animation for industrial and product designers) and Brazil renderer. The recommended retail price for the bundle is 5700 euros.
"Rhino software is widely known and used worldwide", comments Anna Zevelyov, CEO and Co-founder of Thor3D, "many of our customers already use it and our goal is to make it even more accessible to a wider audience. Engineers and digital artists alike, will find this software, in combination with our 3D scanners, extremely helpful in their day-to-day work."