Case Study:
Italian national cycling team improves aerodynamics with Calibry 3D scanner in preparation for Tokyo Olympics
Summary: 3DiTALY, Thor3D's partner in Italy, scanned the athletes of the Italian national cycling team for subsequent aerodynamic studies by Pinarello's (bike manufacturer) engineers.
The aim: Capture the most aerodynamic position while the cyclist is fully equipped. Based on the measurements, produce tailor-made handlebars.
The tech: Calibry 3D scanner, Calibry Nest software
Achieved Result: Within 2 minutes 3DiTALY made a series of hi-res models, which will be studied by the engineers.
The bicycle resembles the airplane more than any other machine: it minimizes contact with the ground, and only its humility prevents it from flying.
- Mauro Parrini, Philosopher
It's hard to underestimate the importance of aerodynamics and the influence it has on the athlete's performance. In the world of professional cycling speed is everything (read more).
This case starts with two well-known brands in the world of cycling – Pinarello and Hardskin. Together these two companies are responsible for supplying the Italian national team with all the necessary equipment. Pinarello is an official supplier of bicycles and Hardskin produces sportswear. As the Tokyo Olympics 2021 approached, Pinarello and Hardskin collaborated to find a way to enhance the aerodynamic efficiency of athletes.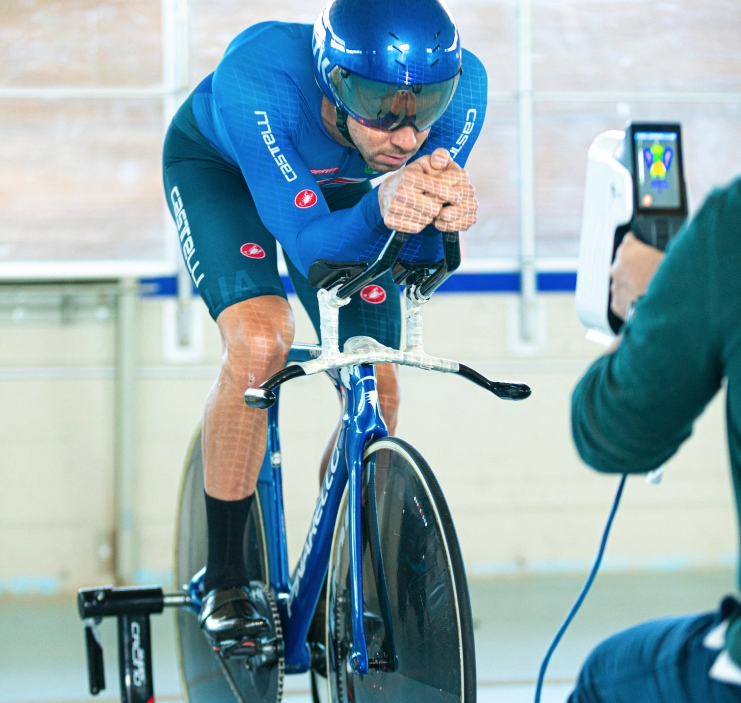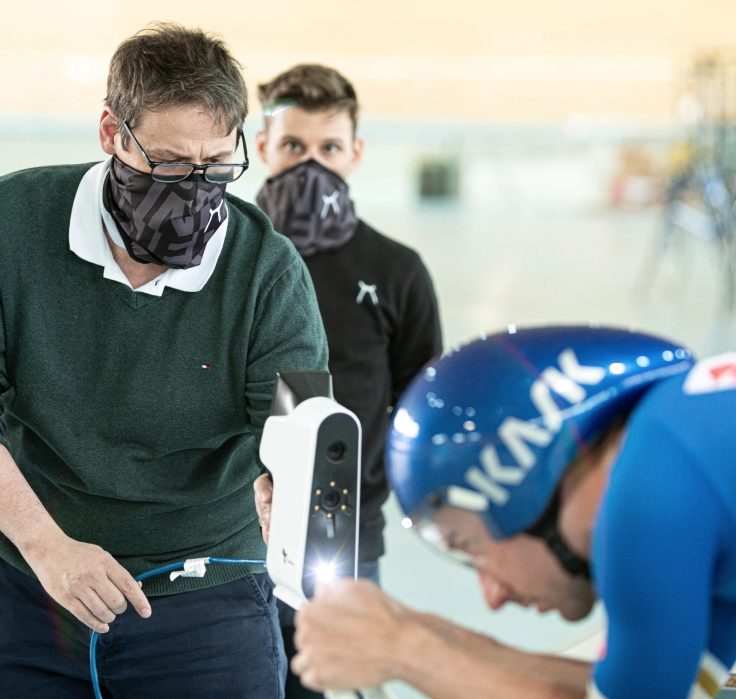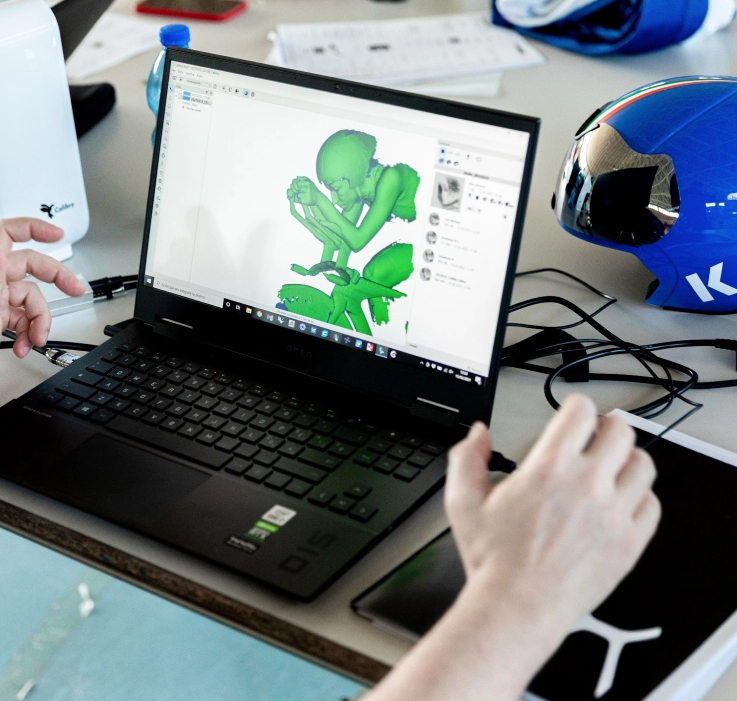 Few months ago, our partner, 3DiTALY was asked by Hardskin to digitize the athletes and Pinarello bicycles. The project was carried out in February 2021 at the Velodrome of Montichiari, in the province of Brescia. Financed by the Municipality of Montichiari, it is the first and only indoor facility in Italy dedicated to track cycling.
3D scanning an athlete was the first step in a long process chain necessary for the study of aerodynamics. A high precision and reliability of the device were required, so that's why Calibry 3D scanner was chosen. The body scanning involved:

Warm-up of the athlete and the preparation of the mechanical medium

Imitation of the race in order to find the most aerodynamic position possible


Maintaining the race position. The athlete wore a bodysuit and a helmet to fully simulate the race experience
Due to Calibry's quick performance, the scanning was done within two minutes. The data was post-processed in Calibry Nest and passed to Pinarello's engineers for subsequent aerodynamic studies.
3D scanning is a quick and convenient way to capture data, since a 3D model file contains all the necessary information to analyze the athlete's position and design a tailor-made handlebar. This part will then be manufactured by Pinarello in a unique piece that perfectly fits the athlete's arms in order to obtain a perfect symbiosis with the bicycle.