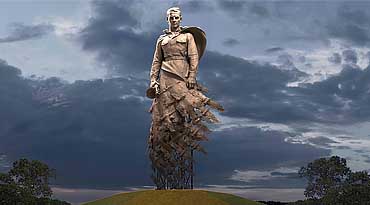 The Rzhev Memorial to the Soviet Soldier is a colossal sculpture inspired by the veterans of World War II. The central bronze figure, representing a heroic soldier, weighs 80-tons and stands 25 meters tall. Many photos were published across social media showing the painstaking and laborious work of the sculptors and engineers who participated in the construction of the monument. 3D technology simplified the preparatory stages and helped to avoid construction mistakes.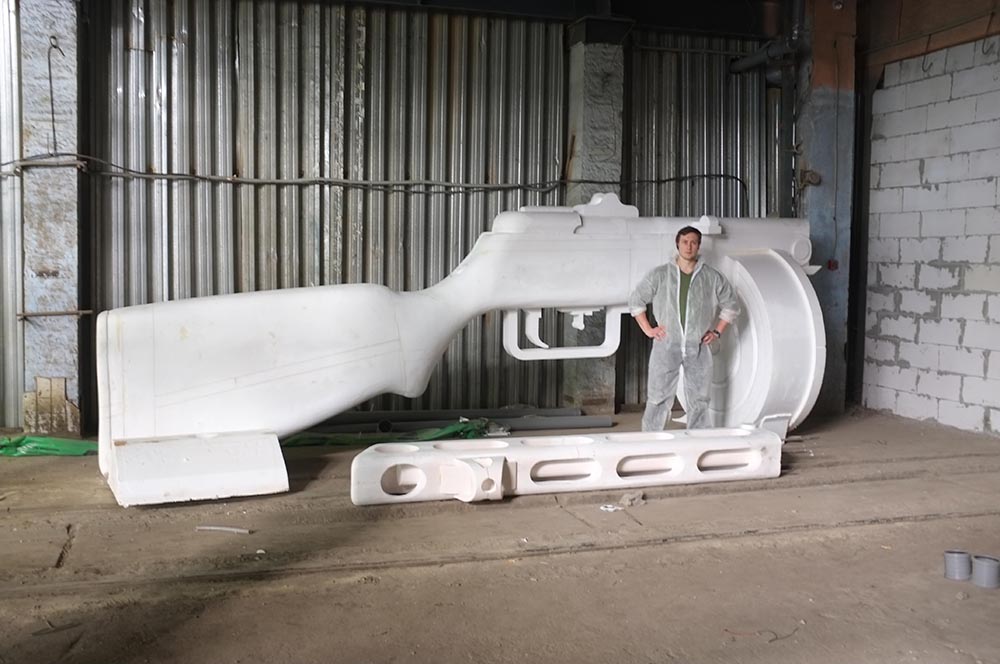 A person vs a part of the sculpture

The project began in 2017 when the first sketches of the sculpture were drafted by sculptor Andrey Korobtsov and architect Konstantin Fomin. The counsel selection took a long time and only six months later the sketches were finally approved. The sculpture was edited multiple times by historians and engineers over the course of 3 years.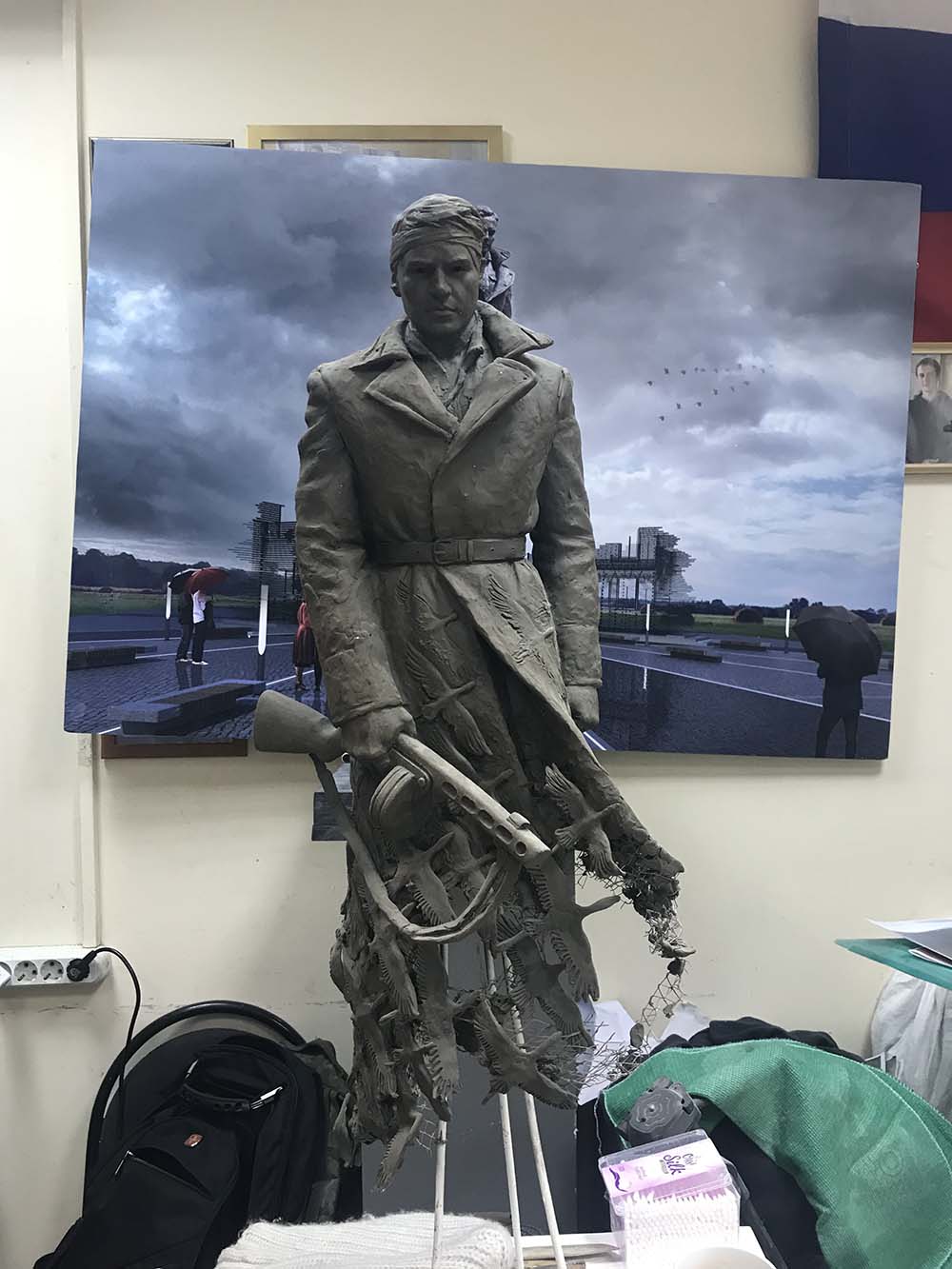 Photo from the sculptor's workshop: the initial sketch, followed by a 3D render of the eventual memorial

Prior to beginning construction, a stable foundation had to be made. This was particularly challenging, as the soil chosen for the site of the monument was swampy with frequent strong winds, and experts were concerned that the frame of the monument might not withstand such conditions.
To tackle this challenge and test the initial prototype, the 2-meter model sculpture was digitized using a Thor3D scanner. We wrote more about this in a publication from 2019. The sculpture was captured by scanning in a spiral motion from top to bottom, just like people, from the top of the head to the floor. Since the sculpture was large, the scan was split into two parts, first the head and torso, and then the supporting structure itself. After the scanning was finished, our specialist combined two parts of the scan in our software and created the finished model.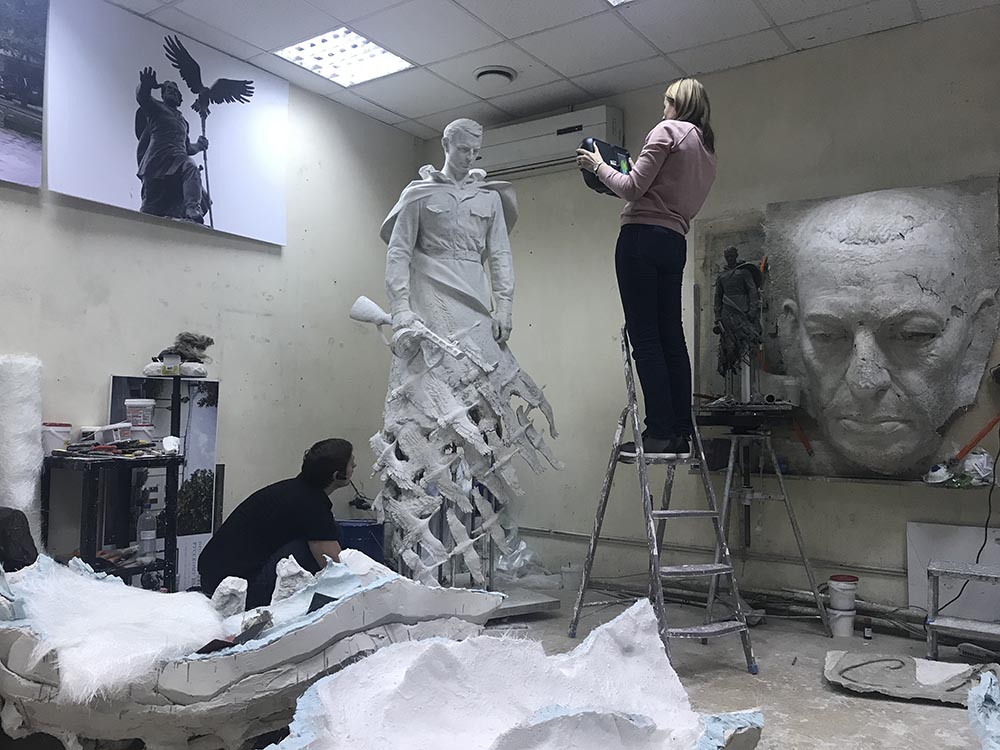 Photo from the sculptor's workshop: scanning

The next step was to modify the 3D model in ZBrush and print a miniature 3D model so it could be tested in a wind tunnel.
3D-scan of a sculpture

Following the tests, the supporting structure was strengthened and finalized.
When the prototype of the sculpture was finally approved, Andrei and Konstantin set about creating a full-size sculpture in a rented workshop. The 25-meter sculpture was "cut" into three parts and each was molded separately.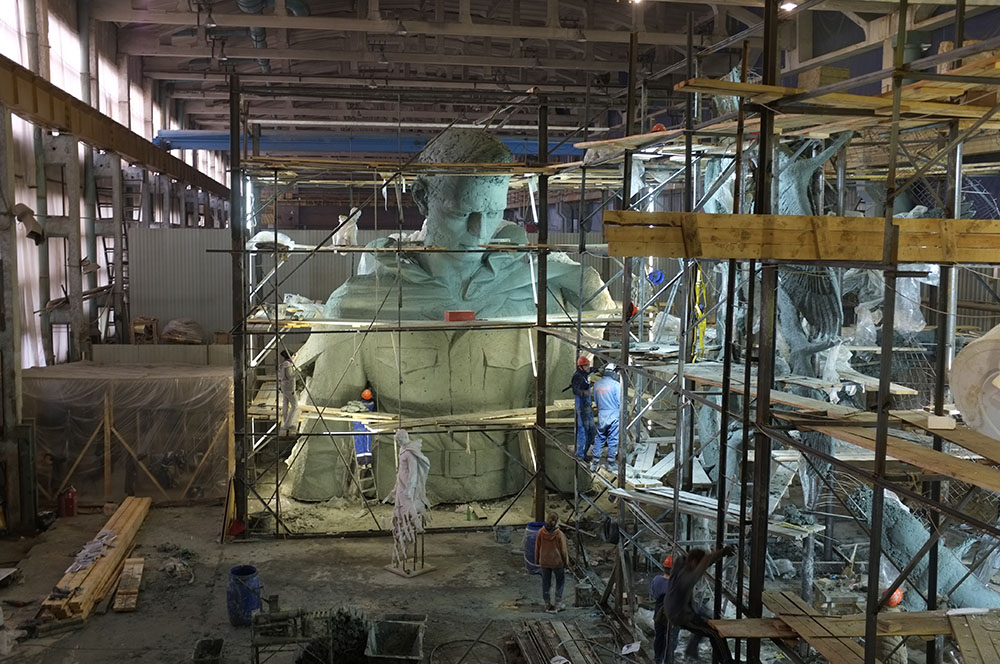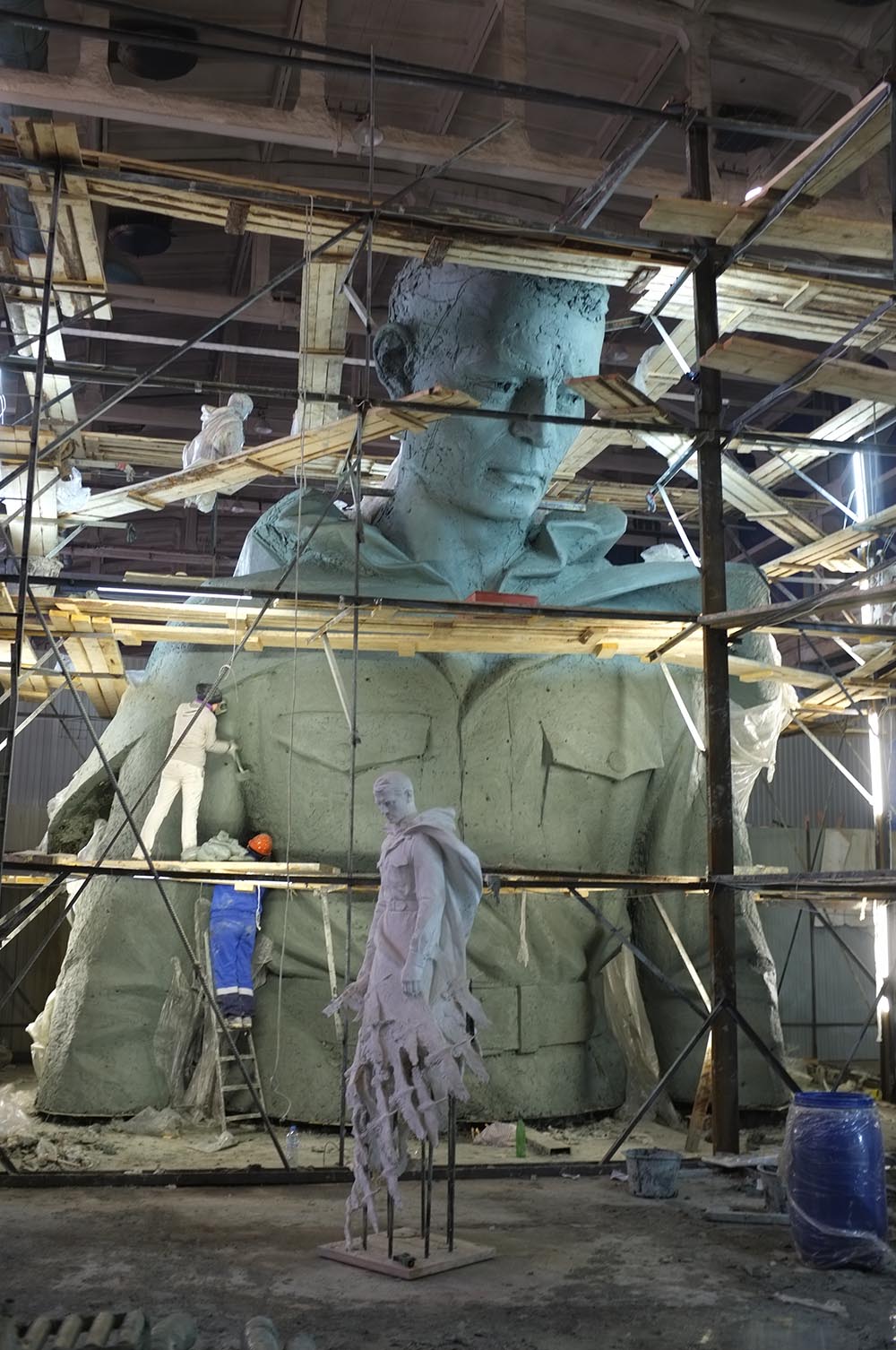 Modeling the upper part of the sculpture.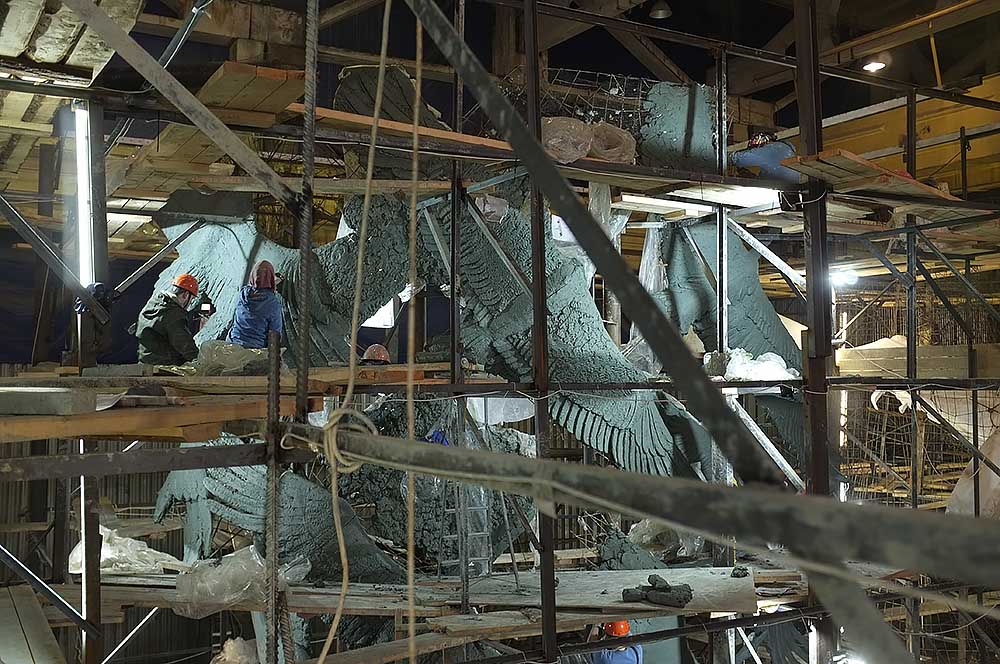 Modeling the lower part of the sculpture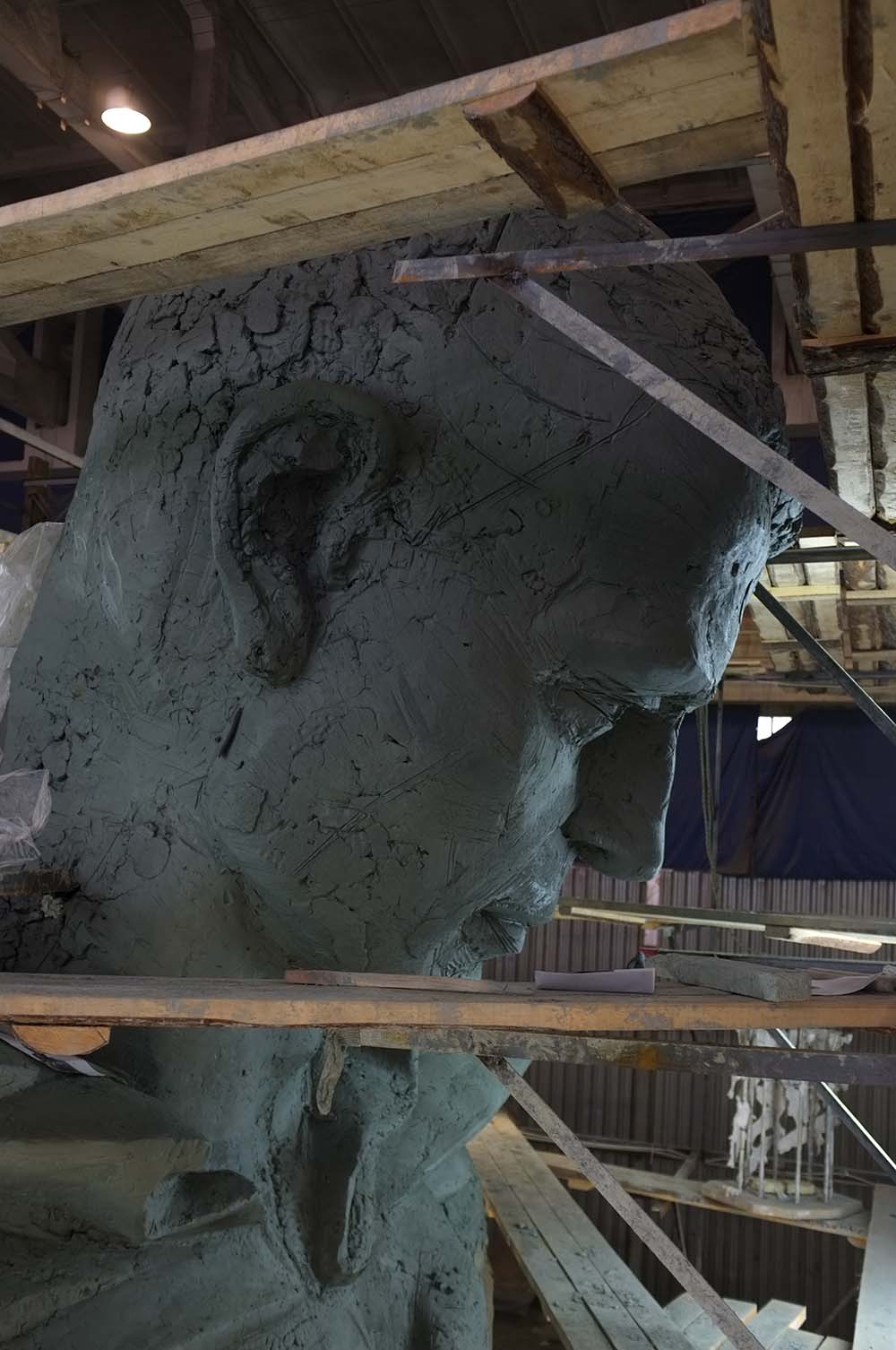 The soldier's head

Finally, when all three parts had been molded, they were divided into fragments to be cast in bronze (a total of 600 fragments). The casting was done in the workshop of sculptor Alexander Rukavishnikov. The assembly of the sculpture took place on site of the anticipated monument and was carried out in two stages, first the assembly of the upper part starting with the head of the statue and the lower section containing flying cranes.
The assembly of the core part of the memorial was completed on March 31st 2020.