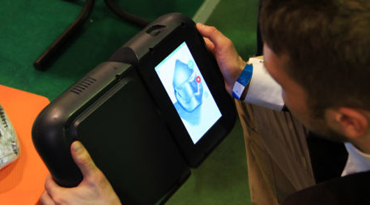 The long-awaited debut of Drake took place last week at the 3D Print Expo in Moscow.

Crowds gathered around the main exhibition stage to see the new scanner in action during the official presentation which took place in collaboration with LaserBuild, Thor's very supportive distribution partner, and a ring of people surrounded our sales staff from morning to dusk at the exhibition stand of ABS-3D, another wonderfully-enthusiastic partner.

At the start of the presentation, Vadim Fomichev, Thor's Business Development manager, talked about several high-profile 3D scanning projects that were completed over the past year using the Thor3D scanner, including one where large statues were scanned a few weeks ago, right before their official unveiling near the Kremlin walls.

Vadim, then, unveiled Drake and jumped right into scanning his colleague, Dea (Thor's Marketing Manager) right on stage. The scanning and post-processing were done in less than one minute and the resulting, complete 3D file was promptly displayed on a large plasma screen on stage.

After wrapping up his presentation, Vadim offered to scan anyone else in the audience and a real super-hero started jumping up and down (as much as his cosplay costume allowed it), waving his hands, asking to be scanned. Someone in the audience muttered that the costume was too shiny and that the result will not be good. And even though the presentation was over, no one in the audience left. They wanted to see if the heckler was right or whether Thor3D can really overcome traditional difficulties for 3D scanners like shiny objects. Vadim welcomed Iron Man on stage. Scanning took one minute. Post-processing took four minutes. No one in the audience left. They wanted to see the result. And once the finished 3D file was up on the screen, applause followed. Both geometry and texture looked good.

Our stand was busy even before the presentation, but afterwards, it was inundated by enthusiastic visitors. Dozens of people brought various objects from around the exhibition for us to scan.
By 5pm, our team was exhausted, but the day wasn't over yet. We had one more surprise waiting for us: we were delighted to learn that Drake won this year's most prestigious award – "The most innovative product of the year".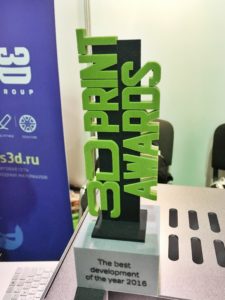 I would like to thank the organizers of the 3D Print Expo for a great event, our devoted partners for their hard work and all the visitors who made the show so much fun. See you next year!
Anna Zevelyov
Director of Sales

Thor3D