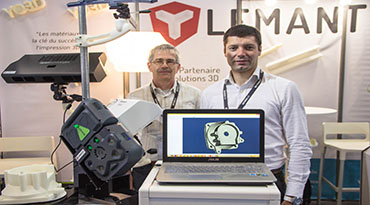 Thor3D took participation in 3D Print Congress&Exhibition in France, Lyon, where it demonstrated Drake. The exhibition was dedicated to additive technologies and was mainly focused on the local market.

Drake 3D scanner attracted the visitors' attention and roused much interest. They particularly liked Drake's swappable lenses, (convenient for scanning objects of different size) and intuitive software.

One of the exhibition visitors decided to see Drake in action and brought a metal tool with the shiny surface to be scanned. The process went well and Drake demonstrated clean scan results.

Overall, more than 2/3 of the stand's visitors showed interest in the product. We would like to thank our French partner, Lemantek, for an opportunity to participate in 3D Print Congress&Exhibition.