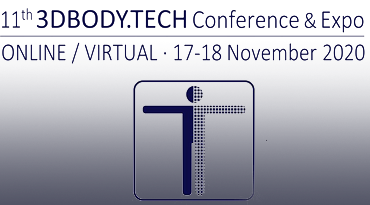 On the 17th of November Thor3D will participate at the 11th 3DBODY.TECH Conference & Expo – an online/virtual exhibition dedicated to 3D human body scanning and process technologies.
Mr. Vadim Fomichev, Sales Director at Thor3D, will talk about Mobile Scanning of Body Parts with Calibry Mini 3D scanner. The presentation is scheduled on the 17th of November at 09:10 (Technical Session 1: 3D Body Scanning Systems I). The up-to-date conference program is available here.
3DBODY.TECH Conference & Expo is one of the largest meetings dedicated entirely to 3D body scanning. The multidisciplinary event will focus on various application sectors. The visitors will have access to 50 technical presentations and live demonstrations directly from the exhibitors. The online platform will be open 24 hours during the event and will be active for 30 days after the exhibition is finished.
3DBODY.TECH Conference & Expo will take place online from the 17th till the 18th of November 2020. More information is available on the official website of the organizers: https://www.3dbody.tech/